The BMI Image Collection is being gradually added to our website. If you are seeking specific images, many are cataloged with Victorian Collections. 
If you would like to purchase a high resolution digital image or request a printed image please complete the image request form.
Note: If you have information, provenance or stories associated with these images, then we would love to hear from you, they will be considered for additional image documentation and recognition. Please use the contact form at the bottom of the page and reference the image category number.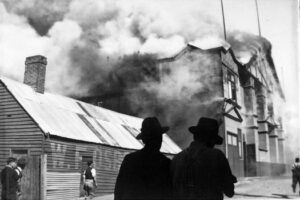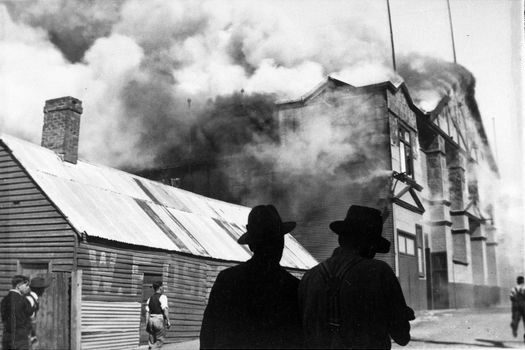 We are featuring a photograph from our Ballarat International Foto...
We are open for the Ballarat International Foto Biennale!  Come...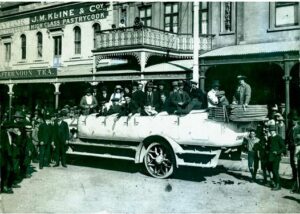 How about a journey in a Withers' White Char-à-banc?The char-à-banc,...
We have a limited number of collection images shown below.
Arthur Leckie was born in Sebastopol on 16 August 1876. In 1878 the family moved into their newly built home, 'Blythewood Grange', in Sebastopol. Arthur attended Grenville College and commenced Ballarat College in 1893. He was Apprentice as an Ironmonger at 'The Present Day Ironmonger' in Bridge Street. He next worked for William Dawson, Ironmonger, in Sturt Street, next to old The Courier Office.
After the death of his father in 1893 the family moved out of 'Blythewood Grange' into Ballarat. Arthur and his brothers Robert and Harold built their own automobile in the sheds behind their house, commencing in 1899 and having it 'on the road' in 1901.
The Herbert Richmond collection was gifted in 1982 to the Ballarat Library. The collection contains approximately 200 photographs of Ballarat and district in the 1940s, 50s and 60s, as well as photo albums, glass negatives and other memorabilia.
Herb Richmond was a keen photographer, a foundation member and a life member of the Ballarat Camera Club, and a photographer with the Ballarat Courier during the 1940s. The Ballarat Camera Club named an annual award after him. Mr Richmond died in 1981 aged 79.
These images were digitally re-photographed by members of the Ballarat Camera Club in September 2006.
Max was a former cameraman at Studio Cameraman/Audio Operator in the Film Department at BTV Channel 6, Ballarat. He was in the RAAF where he studied photography for 6 years.
The Max Harris Photography Collection was compiled by collector and photographer Max Harris over forty years from various sources, including public, private, and his own images. Any knowledge regarding additional information about these images can be made via the contact form at the bottom  of the page (quoting the MH reference number) and much appreciated.
The images that have been catalogued and uploaded here are from the digital files in the collection.
This extensive collection of images was purchased by the Haymes family (David and Jenny) and was donated by them to the BMI to care for this valuable Ballarat asset.
Norma Lillian Henshall nee Sterritt biography (by son in law Rod Sharp) (Victorian Collections)
Norma was born on the 14th November 1912.
She was a forward and independent child and always did what others would not consider appropriate at that time and you could say she was a hit of a rebel.
Norma worked in Fairweather's in Pleasant Street and while she was there was taught to drive.
She later drove Fairweather's Taxi being one of the first ladies to do so in Ballarat.
Norma put her age up from 17 to 18 so she could get her license earlier and purchased an Austin 7 red sports car complete with a fishtail back.
Norma taught herself the fundamentals of developing photographs and in 1938 rode her man's bicycle around Ballarat taking photographs of the various businesses decorated to celebrate the centenary of Ballarat.
During the Second World War with her husband serving overseas in the Middle East Norma enlisted in the Army and served from 1942 through until 1945 as an Ambulance driver in the 3rd Ambulance and was stationed at Camp Pell which was located adjacent to the Melbourne Zoo. Norma transported wounded servicemen to the various hospitals around Melbourne.
Image SD 01 – The back of this photograph notes: Uncle Tom Duke and Uncle Jack Duke among this group. They worked at George Farmers before Tom worked at the S.E.C depot in Wendouree and Jack joined the Police Force.