Around the last decade of the twentieth century it was evident to the committee that the Ballaarat Mechanics' Institute needed to be awakened from its slumber, and after the era of the Britannia , the Odeon and then the Vegas Cinemas it was in decline, clearly in need of a complete overhaul and renovation.
The book collection, scattered between the library situated in the old Mining Exchange (now the Heritage Reading Room) and the old library (now the Humffray Room), was being digitised by volunteers, and the committee was concerned that water damage and building deterioration was affecting the future of the Institute including the library which was in imminent danger.  As part of the extensive renonations the library was re-located to what was then the Victoria League meeting room, now the Batten Room.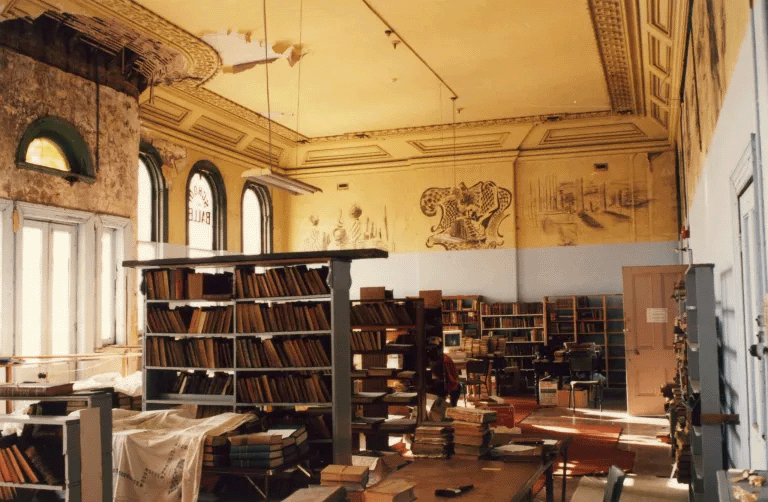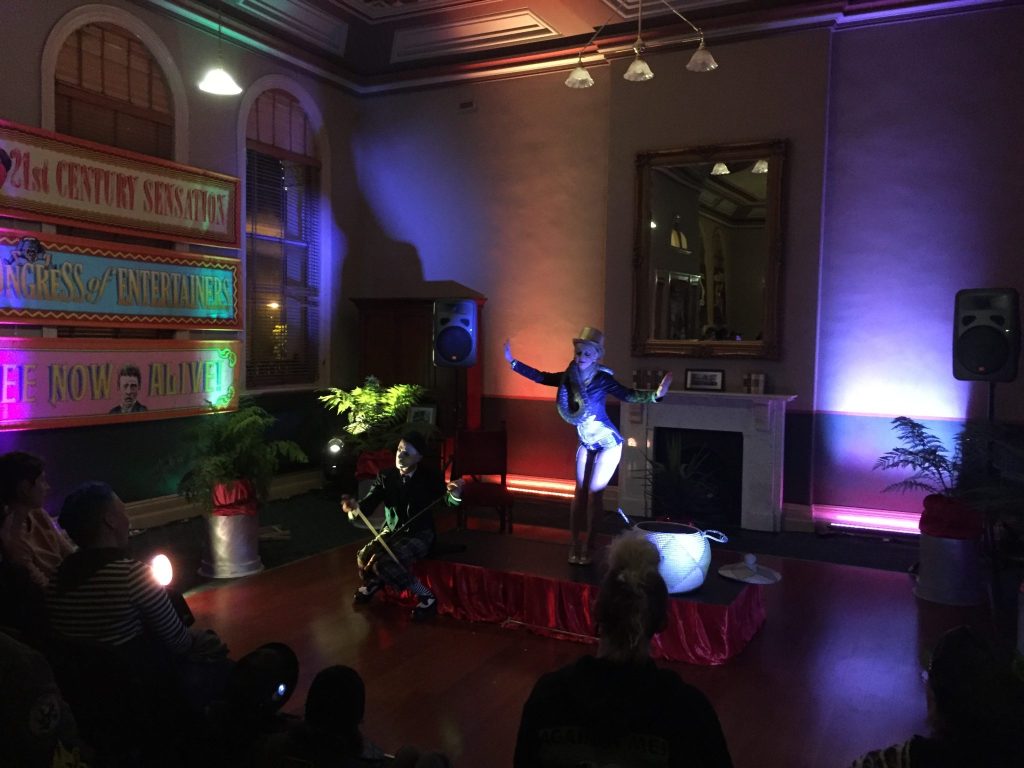 The roof of the theatre (now the Minerva Space), built in 1859 was bowing with the weight of water when it rained and in danger of complete collapse. During 2005 and 2006 a plank held vertically against a rafter, measured the amount of strain, if not imminant collapse with the weather.
Fortunately, while Wilma Bridges was president, committee member Frank Hurley was an excellent writer of submissions, and it came to pass that a grant was applied for and received for major emergency roof renovation works and subsequent upgrading of the complete building, including provision of a lift to five floors. This entailed working within Heritage Victoria guidelines and gaining progressive funding for further works. The stairs were re-aligned, the toilets were re-built, the facade was re-vamped and waterproofed.
The theatre was designed n 1859 to seat up to 1000 people, without any amplification of sound. This was accomplished by designing a curved end to the auditorium, which has now been rebuilt. The colour selection was from the original scrapings, and the gold paint was specially obtained from the USA.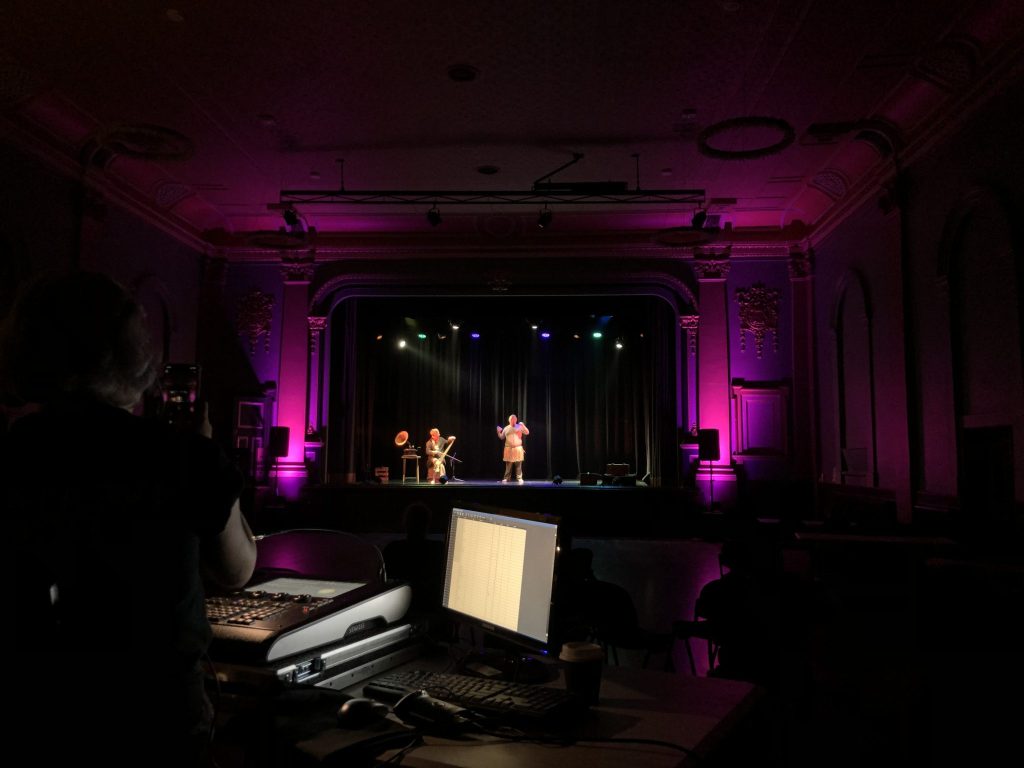 It was found that the theatre roof was not the only problem, the ceiling of the top floor of the 1868 front section of the building was ready to collapse, which it did. 
Excellent liaison with architects from Heritage Victoria, and competent tradesmen from Weir Bros., the major contractors, resulted in a renovation that reflects the history of the original, and incorporates the modern additions, such as the lift, placed where the gents urinals were, and the intricate technical theatre fit-out.
The public opening of the new renovations was performed by Frank Hurley OAM, assisted by the Mayor of Ballarat.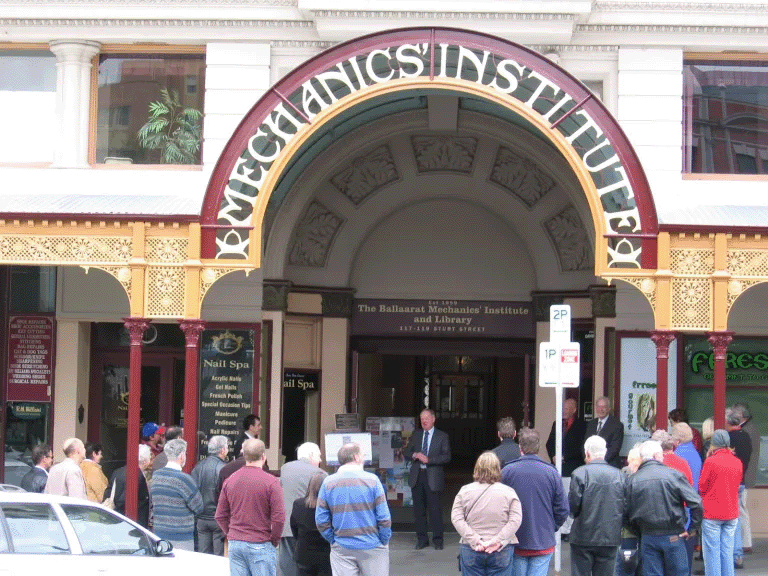 If you would like to contribute to this page, we would welcome you to do so.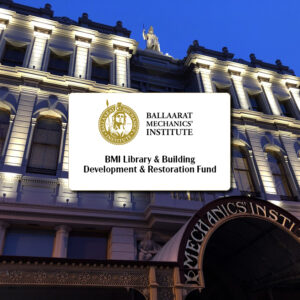 We are reaching out to history enthusiasts, community supporters, and...
The BMI can provide public tours of the building. Get in touch with us to book in a tour for your group.