The Ferdinand von Mueller collection of Australian plant specimens is a three volume set of dried and mounted native plant specimens, titled:
Educational Collections of Australian Plants under the auspices of the Victorian Government issued by Baron Ferd. Von Mueller CMG MD PhD FRS
They had been collated and presented to selected Institutions in Victoria, during the period when Von Mueller was the director of the Melbourne Botanical Gardens and the herbarium from 1873 (vol.1), 1875 (vol.2), and 1876 (vol.3).
The collection is part of the Ballaarat Mechanics' Institute listed Heritage Collection, and is available for limited inspection by request to the Librarian.
Complete catelogue of plant specimens
List of specimens in the three volumes in the collection. They are sorted (ABCD) in the order they appear in the volumes.  Also available on request on a CD with photos of each entry.
The following books by Von Muller are in the BMI Heritage Collection:
The plants indigenous to the colony of Victoria
Fragmenta phytographiae Australiae
Fragmenta phytographiae Australiae
Fragmenta phytographiae Australiae
The vegetation of the Chatham-islands
The native plants of Victoria succinctly defined
Iconography of Australian species of acacia
Iconography of candolleaceous plants
Von Mueller collection news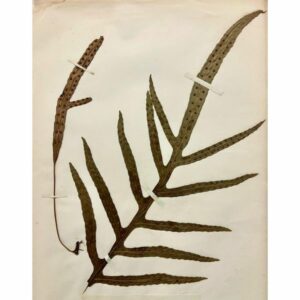 In the 1870's the Ballaarat Mechanics' Institute was the recipient...
If our Living Heritage Exhibition on Baron Ferdinand von Mueller's...