WHAT ARE TWILIGHT TALKS?
Twilight Talks have been held at the BMI since 2001, providing a great opportunity to hear some fantastic speakers and meet up with friends over drinks.
Participants arrive at the Humffray Room from 5.30pm for drinks and conversation, followed by a 30 to 40 minutes at 6pm.
ADMISSION 
BMI Members $8.00 per person, non-members$12.00.
Note: 
The 23 May event fee is being held at 10.30am the cost is $15 BMI members & $20 for regular attendees (includes morning tea).
The 24 May event is being held at the Ballarat Chinese Library a flat fee of $10 per person applies and will be split 50/50 with the Chinese Library.
Refer to our events page for upcoming events.
Contact Rosemary in the BMI Library for information on 5331 3042.
Twilight Talks 2023 Series
Season 2 – Five sessions
3 May –  24 May 2023
Session 1:
Wednesday 3 May | 5.30pm | Humffray Room
Music and Entertainment History
Ailsa DuBois – chose Ballarat as her home over 18 years ago. She holds two Masters degrees: Journalism (UTS) and Writing & Literature (Deakin), among other qualifications. She is Vice-President of the community-based Ballarat Arts Alive.
This talk is focused on the nature of popular theatrical entertainment in early Ballarat. What was it like to attend a show in the 1850s? And, what was the difference between a night out on Main Road vs Sturt Street?
Steve Rattle –published a biography on Melbourne pianist Len Luscombe and his company Anglo-American, manufacturers of Broadway piano rolls.
Steve will introduce you to Evelyn Scotney The Ballarat Songbird.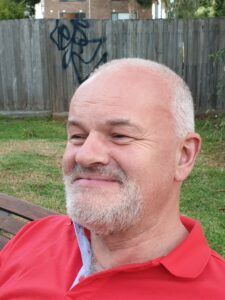 Evelyn Scotney
The Ballarat Songbird, Born in Ascot Street, Ballarat in 1887, soprano Evelyn Scotney studied with Melba's teacher Mathilde Marchesi and composer Paolo Tosti. On Christmas eve 1920 she sang with Italian tenor Enrico Caruso in his final New York Metropolitan Opera performance. So why is she now sadly forgotten? Join Steve Rattle as he affectionately remembers this great Ballarat lady.
Session 2:
Wednesday 10 May | 5.30pm | Humffray Room
Military History: How do we remember?
Peter Dowling
Local member of the Ballarat WAGS (Wireless Airgunners School).
Motivated to find out more of his father's and uncle's experiences in WWII, Peter Dowling has been a member and now President of the Air Force Association NSW Sunderland Branch for the past 25 years. Since moving to Ballarat in 2018, he has been a member of the Air Force Association Ballarat Branch and is the incumbent President.
Peter was born in Melbourne and his first career was in the family real estate business. He was approached to join the Reserves of the Royal Australia Navy when in his mid-thirties due to his expertise in containerisation and shipping and achieved the rank of Lieutenant Commander.
Prior to his retirement, Peter was the Director and Owner of a Small Business Consulting group, providing analysis and solutions to a wide range of small businesses.
No. 1 Wireless Air Gunners School – Ballarat
Under the auspices of the Royal Australian Air Force, Ballarat Airport domiciled the first wireless and air gunners' school to be established in WWII. Recruits were schooled in Morse Code and gunnery prior to assignment to fighter, bomber or coastal squadrons.
Over 6000 young men passed through the 58 courses held between 1940 and 1945. Of these young men, nearly 1200 were killed. Members of the Air Force Association Ballarat have researched 1WAGS extensively. A visual memorial has been created at the old Officers' Mess in Hut 48 at the airport and the 1WAGS website
detailing the history of the school and the lives of many of the trainees has had over 80,000 hits.
Marion Snowdon
Researcher into military memorials:
Marion says that she is a curious observer. As a retired teacher she now enjoys the luxury of time to visit communities, near and far. Cemetery rambles are a favourite with visits to memorials a close second. Through living and travelling with her husband Garry – passionate amateur World War One historian – Marion's eyes have been opened to the multitude of ways that communities remember and pay tribute to those who have served and sacrificed. She appreciates the opportunity to share some of her photographs with others.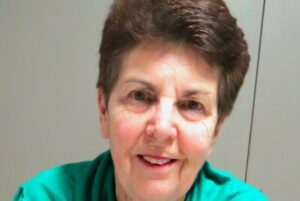 Session 3:
Wednesday 17 May | 5.30pm |  Humffray Room
Early Australian Motoring
It wasn't long after the appearance of the motor car on Victorian roads in the late 19th century before the growing number of vehicles made it difficult to maintain any effective regulation or control. In January 1910 the Victorian Motor Car Act which came into effect providing the regulatory framework for registration and licensing. The digital era has seen many new resources become available to researchers. Access to the early registration records has shed a new light on the stories behind the members of Ballarat's population fortunate enough to be able to afford a motor car prior to WW1. These are some of those stories.
Daryl Meek
Daryl is a historic motoring enthusiast and historian. Having previously served as an Army Officer, followed by a career as an Air Traffic Controller, he most recently retired from the position of Motoring Interests Manager for the RACV. He is a founding member of Automotive Historians Australia and is the Vice-President of the Veteran Car Club of Australia in Victoria. In his retirement he remains an enthusiastic vehicle restorer who maintains his own fleet of historic vehicles, spending most of his spare time researching and writing early Australian motoring history. Daryl lives in a converted church in central Ballarat with his partner Fiona and 300 vintage dresses.
John Lewis
John is a retired Civil Engineer, Developer. 
Born in Ballarat, he worked at CRB, Borough of Sebastopol, City of Ballarat, VicRoads, Sovereign Concrete Pty Ltd. and Sovereign Hill Museums.
From an early age he was keen on anything with an engine, including owning 4 or 5 motor bikes before being licenced.
He sold his university car (an MG B) for a deposit on 25 acres in Durham Lead, and he is still there today.
All types of cars have been his interest, but his collection of 20 or so, all fall in the classic category, i.e. manufactured after 1930, some that he will talk about on the night are:
1937 Standard Coventry (Dr Blake Vehicle)
1946 Fordson 10/10 Van
1970 Le Mans Porsche 917
Silver Spirit Rolls Royce
MB SL 500
Porsche 356
Porsche SC 911
Three MB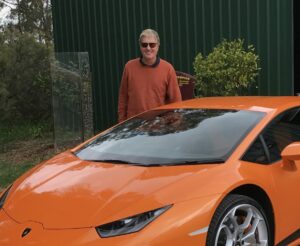 Session 4:
Tuesday 23 May, 10.30am – 12noon  Humffray Room
Restoration of BMI Treasures 
Featuring Grimwade Conservation Services representatives outlining the recent restoration of the Baron von Mueller plant specimen folios, restoration of valuable books and heritage painting. This project was supported by a Living Heritage Grant from the Victorian Government.
Grimwade Centre for Cultural Materials Conservation is Australia's leading Centre of excellence for art and cultural materials conservation and preservation. Uniquely positioned as the only Centre of its kind in Australia and amongst only a few like organisations in the world, the Centre seeks to advance innovation and leadership of cultural heritage practice in the Asia-Pacific region through conservation education and training; research and advancement in cultural materials conservation innovation; and via Grimwade Conservation Services, the delivery of professional conservation consulting services
Built on the commitment that culture matters to individuals and societies, and on the understanding that the University of Melbourne has a critical role to play in the articulation and preservation of culture through teaching, research and knowledge transfer, the Centre plays a leading role in the advancement of best-practice in conservation implementation.
Three Key Speakers
Caroline Fry
Principal Conservator of Paintings will discuss how her many hours of careful detailed work went into the cleaning, repairing, and conservation of the early 19th Century painting of the Bonneted Girl and its ornate gilded frame.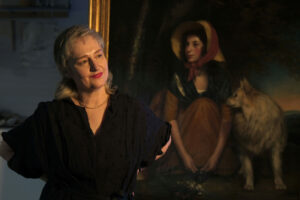 Katy Glen
Principal Conservator of Paper will talk about how she and a team of conservation students, guided by experts from the Victorian Royal Botanical Gardens, cleaned, stabilised, and rehoused rare 219 botanical specimens that comprise Ferdinand von Mueller Educational Collection, making them more accessible for library visitors.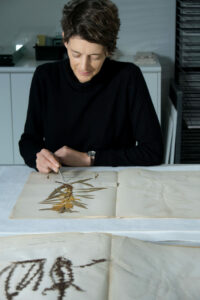 Penny Tripp
 Is General Manager of Grimwade Conservation Services. She manages a team of 16 conservators at the University of Melbourne on the delivery of a range of research translation and community engagement projects focusing on collection care and materials conservation. She is a cultural collections specialist with over 20-years' experience in the heritage and creative industries and has worked in state and regional cultural organisations throughout Australia.
Cost: The cost for this event is $15 for BMI members & $20 Regular fee | This includes light refreshment.
Session 5: This session is now fully booked
Wedneday 24 May | 5.30pm
Ballarat Chinese Library | 200 Sturt Street
Chinese History
"Join us for a unique Twilight Talk when we take the BMI on the road, to the nearby Chinese Library. A more intimate event for no more than 20 people, you'll hear about local historian Yvonne Horsfield's fascinating research into the Chinese contribution to life on the goldfields, while sitting among precious Chinese books and artefacts drawn from collections all over Australia. Charles Zhang, will then offer a tour of the library for those who would like to delve a little deeper."
Charles Zhang 
Ballarat Chinese Library
Located in the heart of Ballarat, the library covers an area of 700 square metres with 16 rooms. Housing over 200,000 Chinese books, the Xin Jin Shan Library (translates to new gold mountain) now has the largest collection of Chinese-language books in Australia.
Charles is a committee member of the library and president of the Chinese Australian Cultural Society in Ballarat.
The Library is not only the largest in the Southern Hemisphere, but also serves as an education and research centre for Chinese languages and the history of Chinese immigration and settlement in Australia. (source SBS Mandarin)
Yvonne Horsfield
Chinese on the goldfields.
Yvonne is a retired teacher who has spent the majority of her teaching career working at Sovereign Hill an as Education Officer, followed by another role in education at the Ballarat Fine Art Gallery (now Art Gallery of Ballarat). She first developed an awareness of the significant role the Chinese played in the early Goldfields history of Ballarat when working at Sovereign Hill. She has a family connection with Reverend John Tong Way who became Superintendent Missioner to the Ballarat and district Chinese from 1903 until he retired in 1949. She has recently completed her PhD to further research the history of the Tong Ways and other families of Chinese descent who settled in both Ballarat and Bendigo. Since graduating she has written "Chinese Roots", a biographical story of the Tong Way family recently published on 25 th March this year by Shawline Publishing in Ballarat.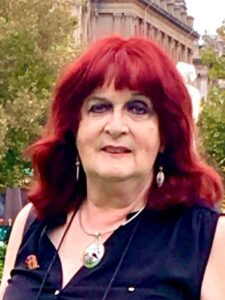 Note: Accessibility
This building is not wheelchair accessible. To access the library spaces it is necessary to climb a set of stairs.
Note: This event is being held at the Ballarat Chinese Library, 200 Sturt Street. The Cost is a $10 flat fee being shared 50/50 with the Ballarat Chinese Library. and is limited to 20 tickets.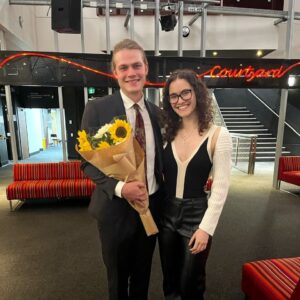 Earlier this month Melba Opera Trust Artist, Tom Nicholson ,...
2023 Series
Season 1 – Five sessions
Wednesdays 8 Feb –  1 March 2023
This series was proudly sponsored by Community Bank Buninyong.
These sessions were absolutely FREE thanks to The Community Bank Buninyong.
Session 1 
History; The Ballarat Club & Trades Hall 

Speakers | Dr Phil Roberts OAM & Jenny Beacham
Session 2
The Red Planet & Ballarat's Lady Astronomer Speakers | | Graeme Hood & Dr Anne Beggs-Sunter
Session 3
A regional Commonwealth Games & creating great teams Speakers |  Steve Moneghetti AM & Gerard FitzGerald
Session 4
Making a difference to Ballarat's homeless 
Speakers |  Ballarat Future Shapers & Michael Poulton
Session 5
Your data and how to protect it
SpeakersGeorge Fong & Dr Omaru Maruatona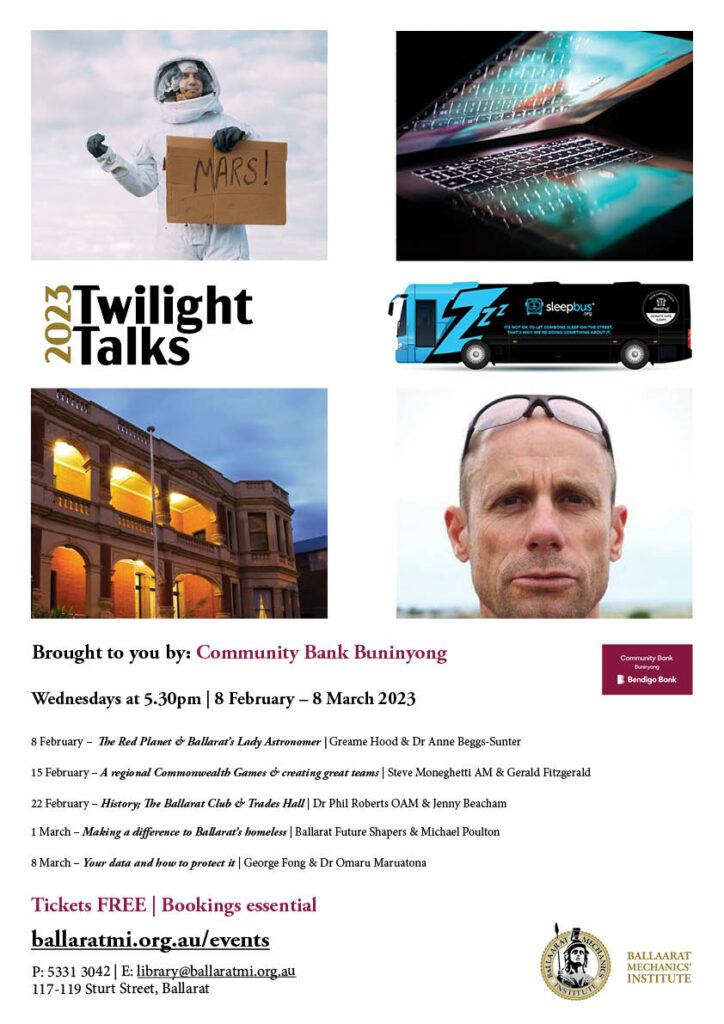 2022 Series
Season 1 – Five sessions
Wednesdays 13 April – 4 May
The Yarrowee: Uncovering the secrets of Ballarat's River
The Yarrowee's cultural connection: Then & now
Speakers | Cr Belinda Coates, City of Ballarat Councillor | Environmental Challenges for the City Council | Hedley Thomson, former Environmental Manager – City of Ballarat | The Yarrowee River Project
What bird or beast is that? The special wildlife of the Yarrowee & surrounds
Speakers | Dr Sam Strong, Gardens for Wildlife Ballarat | Creating wildlife spaces in our own gardens | Dr Grant Palmer, Senior Lecturer of Environmental and Conservation Science, Federation University | Ballarat's bounteous birdlife
How people power is protecting local waterways
Speakers | Jeff Rootes, Secretary of the Friends of Canadian Corridor | Nick McKinley, Leigh Catchment Landcare Group
Liquid gold down under: A "sludgy" history of Yarrowee Creek
Speakers | Susan Lawrence, Professor of Archaeology at La Trobe University | Prof. Peter Dahlhaus, Principal Research Fellow at Centre for eResearch & Digital Information, Federation University
From eel traps to bluestone: Our changing use of the Yarrowee
Speakers | Dr David Waldron, Senior Lecturer in History, Federation University | Dr Fred Cahir, Researcher in Aboriginal History, Federation University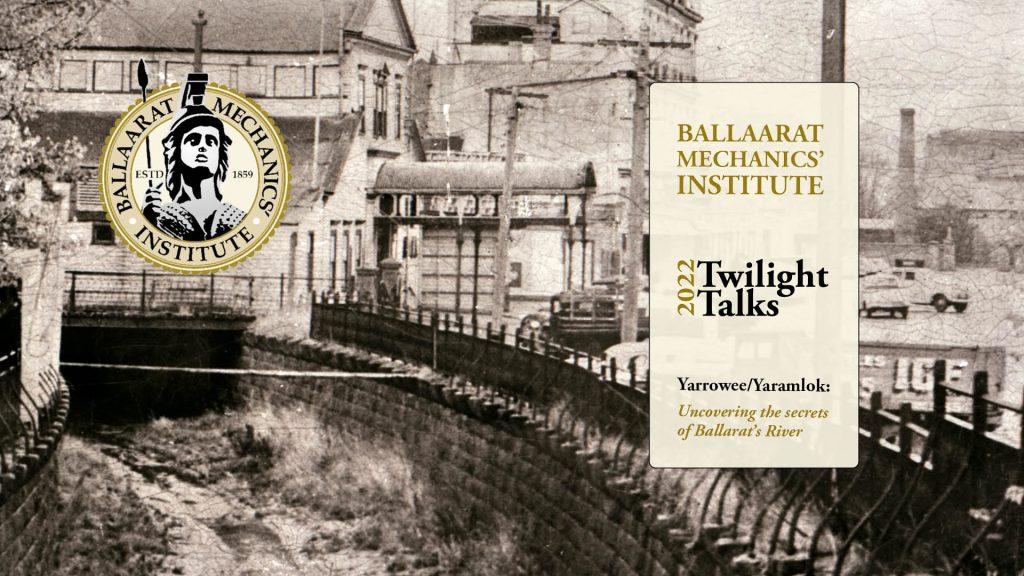 2021 Series
Four sessions Thursdays 15 April – 6 May
Ballarat Unmasked: Getting to know your city.
The growing city: Preparing and planning for our bigger population
Speakers | Cr. Daniel Maloney, Mayor of the City of Ballarat | Michael Buxton, RMIT Planning expert
Why heritage matters in Ballarat: Now and into the future
Speakers | Wendy Jacobs, Architect and Heritage Consultant | Mike Whitehead, local anaesthetist & heritage property owner
A creative city: Finding Ballarat's creative identity
Speakers | Tara Poole, Coordinator of Creative Cities Ballarat | Paige Duggan, Jazz Artist 
Ballarat business: Not just surviving, but thriving
Speakers | Sara Quon, CEO of Sovereign Hill | Alicia Linley, Co-owner of Mitchell Harris Wines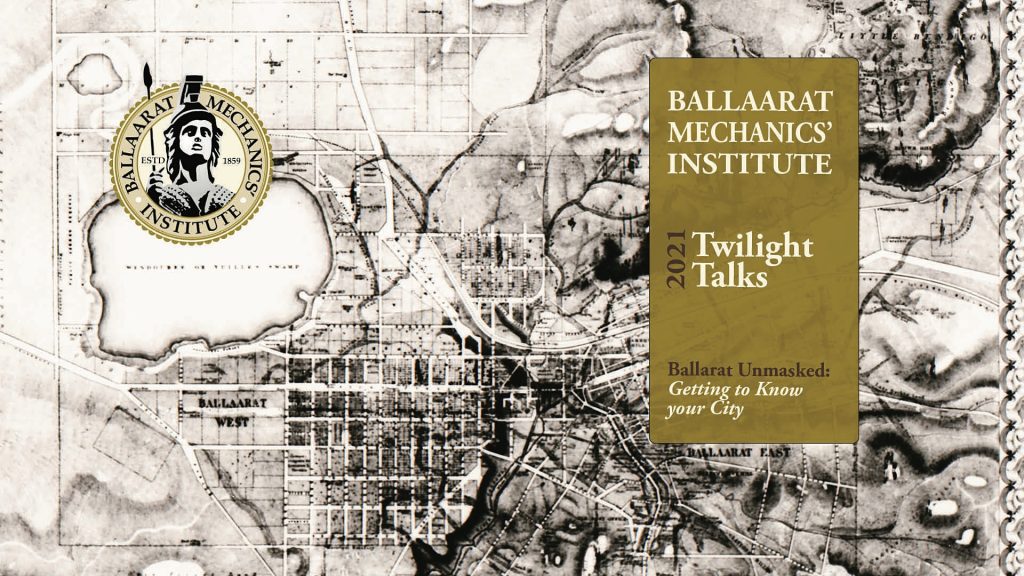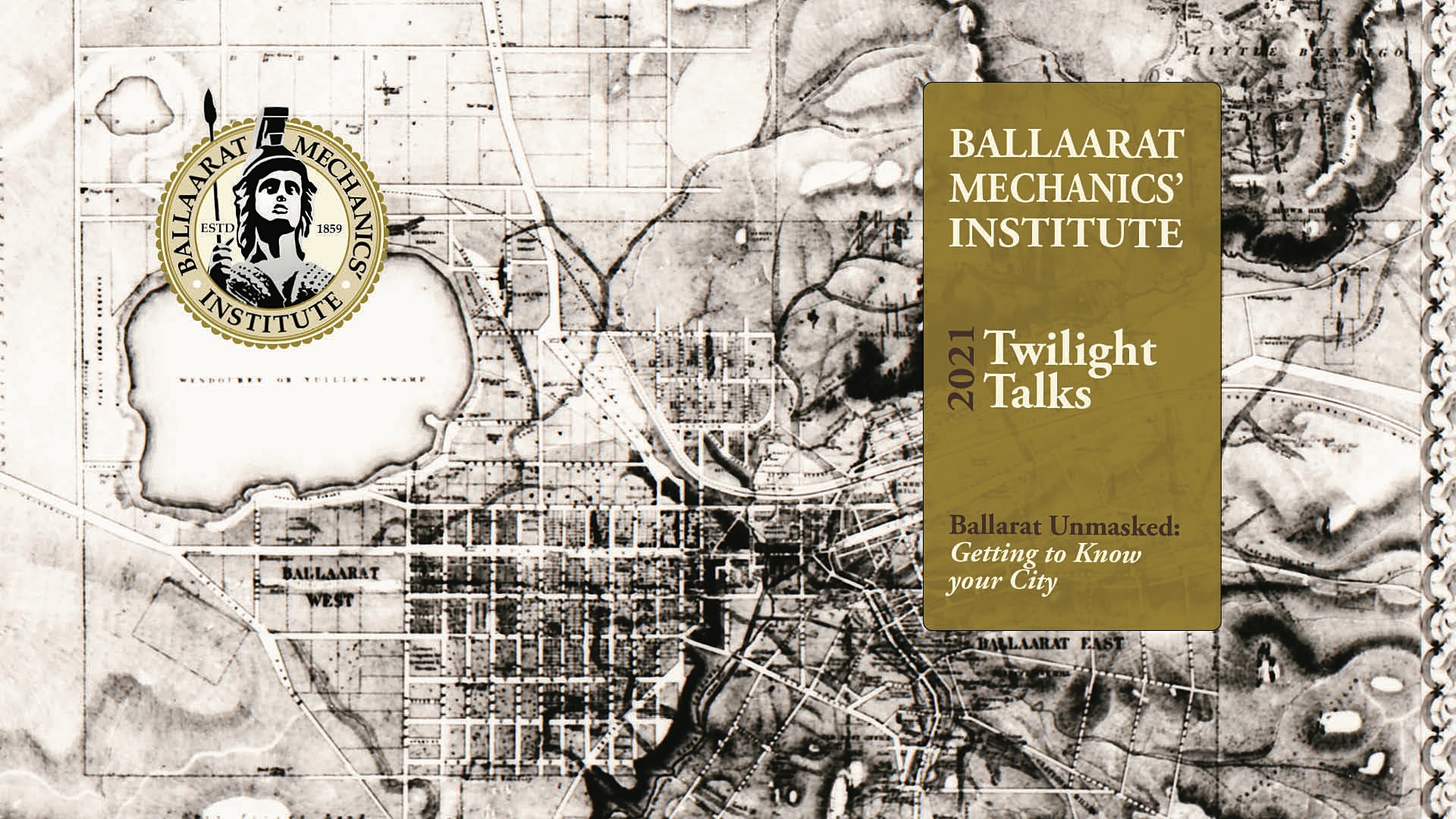 2020 Series
Six sessions Fridays 13 November – 17 December
Twilight Talks Feedback
If you have attended one of our events and would like to provide your feedback, or make suggestions of Talk Topics, we would like to hear from you.