The Reading Room
is a member run book reading and discussion group that meets monthly,  all are welcome to join but you must be or become a member. The sessions are free and when possible will be held in our Heritage Reading Room. The titles discussed will be published in our
monthly newsletter
and social media and
Latest Library News
on this website. 
If you wish to participate please register your interest via the link below.
A Note from Greta | Turning pages, Jane Sullivan, The age
Below is a note from Greta after the October Reading and Discussion Let me sing you gentle Songs | Linda Olsson. She has also found a wonderful article by Jane Sullivan on the benefits and successes of book clubs.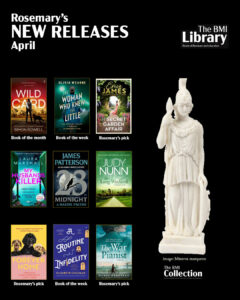 CGo to the Library webpage to view all New Releases...
Read More
Stay informed of our new releases
Subscribe to our Newsletter
Suggestions
Would you like to suggest book titles, authors or categories that you would like to borrow from us?
The BMI can provide public tours of the building. Get in touch with us to book in a tour for your group.