WHAT ARE TWILIGHT TALKS?
Twilight Talks have been held at the BMI since 2001, providing a great opportunity to hear some fantastic speakers and meet up with friends over drinks.
Participants arrive at the Humffray Room from 5pm for drinks and conversation. Talks commence at 5.30pm and conclude at 6.30pm.
ADMISSION 
BMI Members $8.00 per person, non-members$12.00 plus gst and booking fee.
Refer to our events page for upcoming events.
Contact Rosemary in the BMI Library for information on 5331 3042.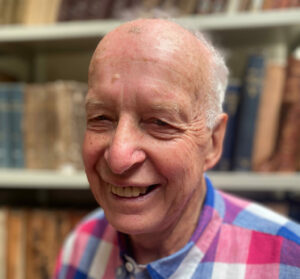 Twilight Talks 2023 Series
Season 3
Wednesdays at 5.30pm
23 August, 30 August, 6 September & 13 September 2023
Two speakers per session.
Season 3 Flyer for email/web distribution. (PDF 494 KB)
Session 1:
Wednesday 23 August | 5.30pm | Humffray Room
Speakers: Dr Ann Jones & Andrew Wallace
A-Z of Australian Animal Sounds
About Dr Ann Jones
Ann Jones is a bit of a nature nerd. She is host of the ABC podcasts What the Duck!? and Noisy by Nature and can be found on ABC social media and TV regularly shaking her head at how nature got to be so weird.
Speaking about | A-Z of Australian Animal Sounds
Sure, animals sometimes sound beautiful, sometimes silly, but what can the sounds around us tell us about the state of the environment?
This talk is suitable for all ages.
Why not vote for your favourite Australian animal noise as part of:
The carolling magpie, bellowing koala, eerie bush stone-curlew … or the petrifying Tassie devil?
It's time to make a call!
You can choose up to three animals in this first round of voting , which will finish at midnight on August 10.
Then things get serious: on August 11 we'll cut the list to a Top 10 and everyone can vote again.
The winning sound will be announced — in a live blog — on Friday August 18.  ABC News
The winner was the humble Magpie with Kookaburra the runner up.
Historical Society Images
About Andrew Wallace
Andrew is the project convenor for the recent Ballarat Historical Society publication, Ballarat 90 Golden Years 1933-2023. Andrew works at Ballarat High School as careers coordinator and has been active in heritage groups for many years. He has served as President, Treasurer and Secretary of the Ballarat Historical Society and has been a committee member since 2003.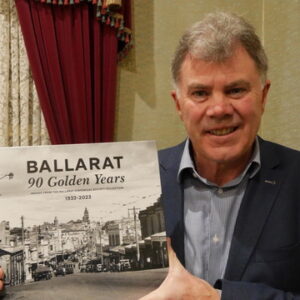 Speaking about | Ballarat, 90 golden Years 1933-2023
Andrew and project photographic editor Kevin Williams drew on the extensive collection of images from both the Society's archive and from private sources, to illustrate Ballarat's changing streetscapes from 1933 to the current day.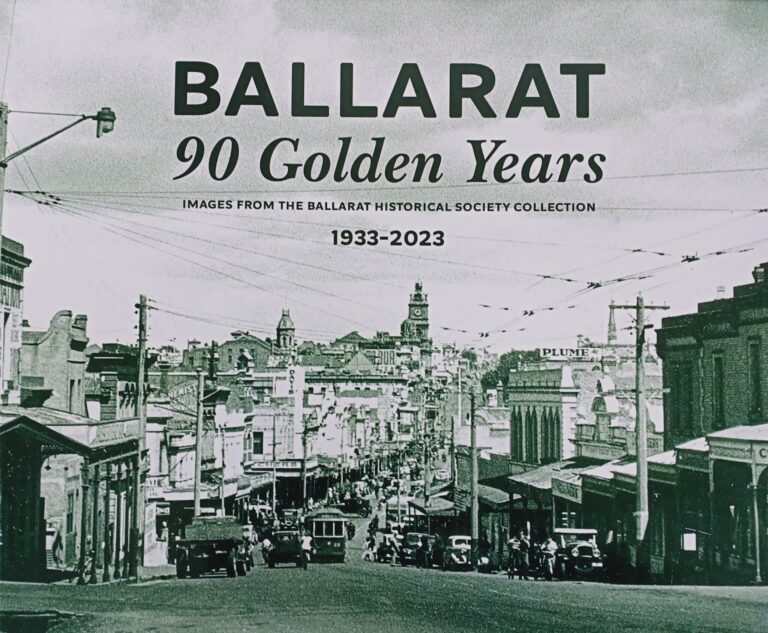 Cost: $8 BMI members | $12 non-members, plus gst and booking fee.
Session 2:
Wednesday 30 August | 5.30pm | Humffray Room
Speakers: Dr Josie Vine & Chrissy Stancliffe
Journalism in the Goldfields
About Dr Josie Vine
Dr Josie Vine has been teaching and researching with the RMIT Journalism program since 2006. She was previously a journalist in regional print and radio news.  Josie's research interest is in the history and culture of professional journalism in Australia. Her latest publications include: Larrikins, Rebels and Journalistic Freedom in Australia (Springer, 2021) and Newspaper Building Design and Journalism Cultures in Australia and the UK: 1855–2010 (Routledge, 2023).
Josie lives in Footscray, Melbourne, with her two dogs, two kids and partner.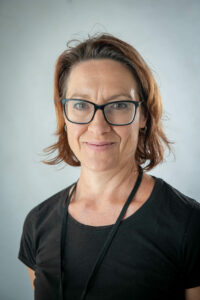 Speaking about | Freedom of journalism in Australia
Dr Josie Vine will be exploring whether journalism in Australia can be considered free, and the historical events – including the Eureka rebellion – that uphold modern journalism's professional ethos to protect our democratic rights and freedoms.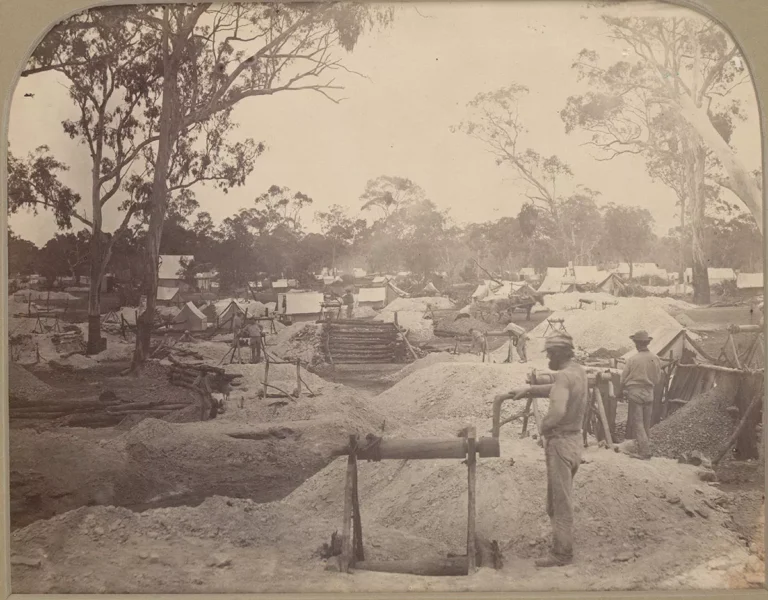 Tom Bury, Ballarat's journalist
About Chrissy Stancliffe
Chrissy is a volunteer at the Ballaarat Mechanics' Institute and a member of the Cnetral Highlands Historical Society. 
Speaking about | Tom Bury
She is currently working on an eBook which a focus on Tom Bury's (Tom Touchstones) trip to England, Ireland and Scotland in 1890.
Cost: $8 BMI members | $12 non-members plus gst and booking fee.
Session 3:
Wednesday 6 September | 5.30pm |  Humffray Room
Speakers: Geoff McArthus & Liza Robinson
About Geoff McArthur
Look for the Red Umbrella is my first book. I am a retired teacher and principal, having worked in the public school sector for 40 years. I am a lifelong Ballarat resident with a deep interest in the city's remarkable history. I have been married to Ann for almost 45 years and have four adult children and five grandchildren. I am a keen musician, having written and performed for many years, though I am currently taking a break.
I have been researching the Greig family in Ballarat for many years, having found that one of them was the original occupant of our former house in Ballarat East. Through them, I have met many wonderful people and shared many fascinating discoveries.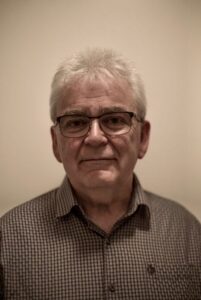 Speaking about Look for the Red Umbrella 
It is essentially the story of the Muller family, who were among the first manufacturers and sellers of umbrellas in Ballarat. The husband, Frederick, was German, and his wife, Margaret, was Scottish. Her family, the Greigs, arrived just before the Eureka Stockade, to which they were witnesses. The family umbrella business was hampered by Fred Muller's extraordinary involvement in many local community and business ventures. Unfortunately, after attaining a very strong public profile, the business foundered, and Muller, in desperation, fell into crime – forging and swindling. When he was found out, he absconded, abandoning his wife and children.  He was captured in Sydney and dragged back to Ballarat, where Justice Redmond Barry of Kelly infamy gave him five years of hard labour in Pentridge. In his absence, Margaret Muller recovered the business and expanded it to 3 shops in Ballarat and one in Bendigo. Members of her family and others she trained also took the business to Melbourne. In addition to this core story, I have found many other incidents involving tragic deaths, achievements, scandals and mysteries. It is based on years of research and is set in Ballarat between 1850 and 1910, but it also heads off to Melbourne, Bendigo, Kalgoorlie and even the Transvaal!
Find out about Geoff's Book Launch 17 August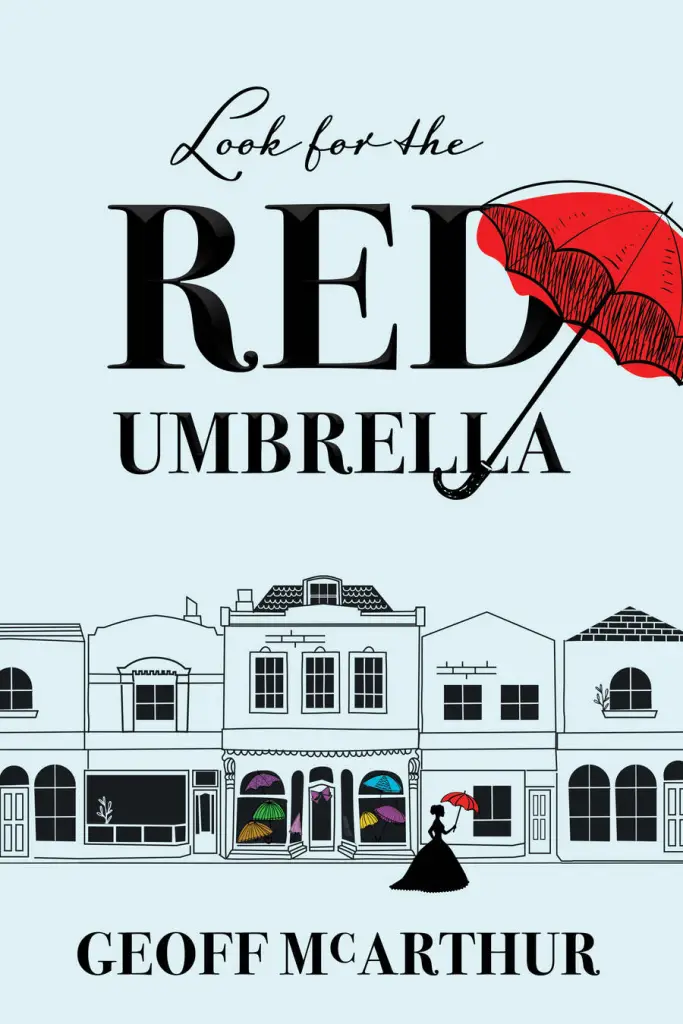 About Liza Robinson 
Liza Robinson: Tree Changer, Entrepreneur, Volunteer, current resident Pyrenees Shire, Victoria. Born and raised in the bayside suburb of Black Rock, Liza has lived abroad for a large part of her life Bali 17 years, Los Angeles 12 years, and is now a passionate tree changer in the Pyrenees Shire. Current President Beaufort Progress Association, the creator of the Cyril Callister Foundation & Museum (the man who invented Vegemite) Liza is an active, out of the box thinking volunteer. Liza's two daughters moved to Ballarat from Sydney during Covid, she is also a grand mother with twin 3 year old girls. Who call her "lolli".
Speaking about the Vegemite Museum
Moving to the Pyrenees Shire in 2013 sparked yet another idea for Liza to create her final legacy. Liza will share with guests the story of how she created the new Cyril Callister Museum in Beaufort – the man who invented Vegemite and established the Cyril Callister Foundation which has just launched an exciting new educational program, called Happy Little Vegemite's education program.
Cost: $8 BMI members | $12 non-members, plus gst and booking fee.
Session 4:
Wednesday 13 September, 5.30pm |  Humffray Room
Speakers: Graeme Quick & Ian Pym
19th Century Ballarat Personalities
About Graeme Quick
I am from the Graduate Reseach School at Federation University and my current research looks at the social, cultural, and economic contribution of the horse to Ballarat and District from first settlement until the early twentieth century. I have graduate degrees in history and international relations from Federation University and the University of Melbourne, respectively. I have been involved with horses most of my life, thus the interest in my research area.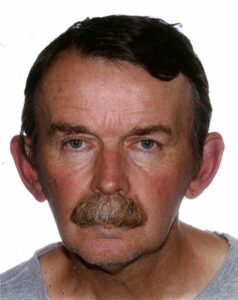 Speaking about W. C. Yuille
William Cross Yuille was Ballarat's first permanent settler in 1838. Along with his cousin Archibald Buchanan Yuille he took up the Ballaarat run which encompassed much of present-day Ballarat. William Yuille is little celebrated in Ballarat today. Only a cairn and plaque in Sebastopol and a short street in central Ballarat acknowledge his existence. Even less is known about William Yuille`s 'other life' after leaving Ballarat. This talk will focus on his involvement with horses and horse racing where he was recognized as one of the nineteenth century's greatest contributors.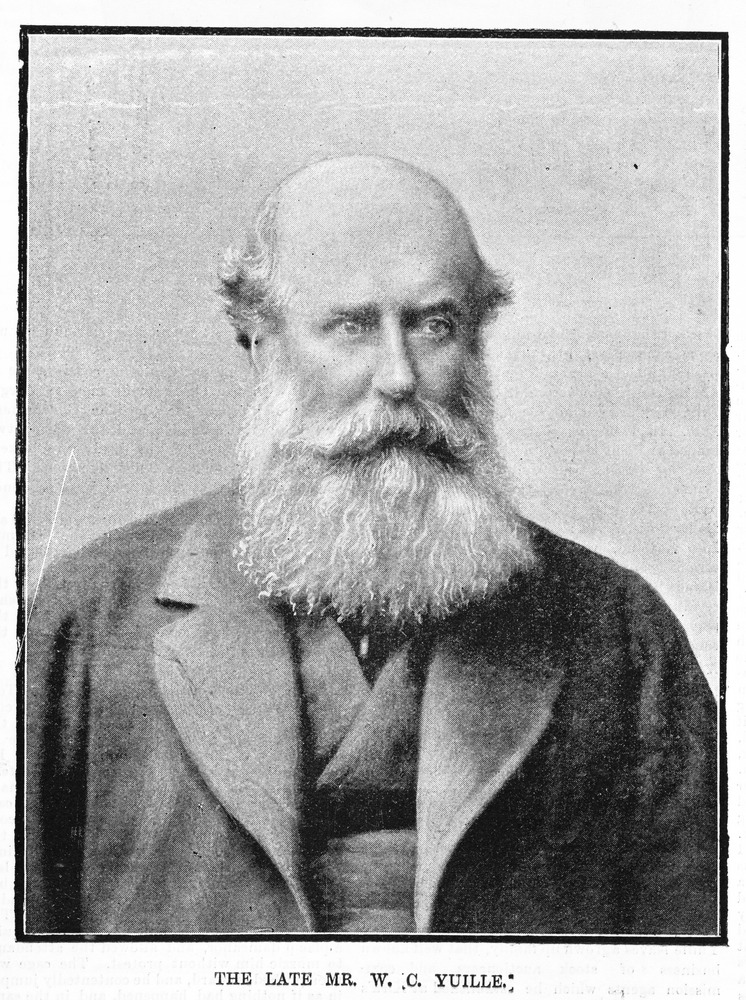 About Ian Pym
Ian was born in Wycheproof on 5th January 1947.
Family moved to Ballarat in 1948.
I was a member of the Ballarat Camera Club for over 30 years (12 years as President)
Joined the YMCA service club, Ballarat historian Lloyd Jenkins was a member also. I assisted him with many books with photos eg Shire of Ballarat history, Borough of Sebastopol history, many history cricket books on visiting cricket teams playing games in Ballarat.
Since then, I have written history books for the Ballarat Camera club, Begonia City Probus Club, Wendouree City Cricket club, Redan Football Club (150th year), Learmonth Bowling Club (150th year)
I am a member of the Learmonth Historical Society.
Speaking about Thomas Bath
Highlights
Thomas Bath was born on 29

th

January 1826 St Clements near Truro

He started as an Apprentice butcher aged 14 years

He arrived in Geelong in 1949

He married in Geelong in 1851 to Johanna Vaughan  

In the same year they moved to Buninyong

Thomas moved to Ballarat where is listed as a Ballarat Pioneer. He opened the first licensed hotel in 1853 called the "Ballaarat Hotel"

Thomas and his wife Johanna moved to Learmonth in 1854, his homestead was named Ceres Estate.

Thomas was the foundation member of the Learmonth Bowling Club in 1873

 He was a Life Governor of the Ballarat School of Mines 1889 – 1901
Thomas died on 29th July 1901 in Ballarat aged 75 years.

Cost: $8 BMI members | $12 non-members, plus gst and booking fee.
We are currently planning  our next series…
We are always looking for new speakers, so if you know someone who has a great story to tell, or research to share, please get in touch at: culturalservices@ballaratmi.org.au