Twilight Talks | Music and Entertainment History.
You will meet Ailsa DuBois and Steve Rattle
Ailsa chose Ballarat as her home over 18 years ago. She holds two Masters degrees: Journalism (UTS) and Writing & Literature (Deakin), among other qualifications. She is Vice-President of the community-based Ballarat Arts Alive.
her talk is focused on the nature of popular theatrical entertainment in early Ballarat. What was it like to attend a show in the 1850s? And, what was the difference between a night out on Main Road vs Sturt Street?
Steve has published a biography on Melbourne pianist Len Luscombe and his company Anglo-American, manufacturers of Broadway piano rolls.
Steve will introduce you to Evelyn Scotney, 'The Ballarat Songbird'.
Evelyn was born in Ascot Street, Ballarat in 1887, a soprano Evelyn studied with Melba's teacher Mathilde Marchesi and composer Paolo Tosti. On Christmas eve 1920 she sang with Italian tenor Enrico Caruso in his final New York Metropolitan Opera performance. So why is she now sadly forgotten? Join Steve Rattle as he affectionately remembers this great Ballarat lady.
For more go to out Twilight Talks webpage:
https://ballaratmi.org.au/news-and-newsletters/twilight-talks/
Speaking of Melba, we would love you to join
Melba Opera Trust
and their talented artists for 2 separate Salon Sessions programs in the Humffray Room in June & July. Go to our Events Webpage for details:
https://ballaratmi.org.au/event/salon-sessions-the-bmi-in-partnership-with-melba-opera-trust-2/
We offer great discounts to members for these Salon Sessions, why not join we are offering $10 off all new 12 month subscriptions for the month of April.
https://ballaratmi.org.au/membership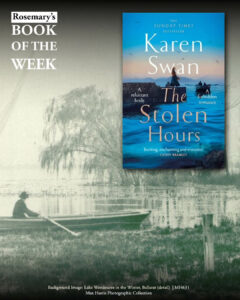 The Stolen Hours by Karen Swan Rosemary's Book of the...
Read More