Book Sale | The Waste Land Suite by Marilyn Peck
Marilyn Peck has made a significant contribution to art and its interpretative role. She has exhibited as a fine atist since 1970 and as a miniaturist from 1980. She has won international recognition; the list of awards accorded her, both in Australia and overseas, is considerable.
This major suite of 48 paintings demonstrating her response to T.S. Eliot's poem The Waste Land.
The value of this book is $48.00. We would be happy to hear from all offers. Contact the Library or complete the form below.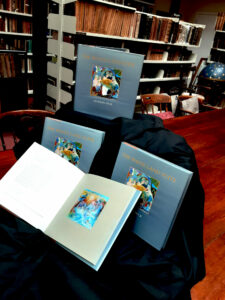 Thank you: We would like to thank the generous friend of the BMI who donated these books
Ballarat's Oldest Cultural Institution
The BMI is a not for profit organisation. If you wish to make a donation you can do so by going to our Donations web page >
All funds raised from this event contribute to supporting BMI services such as.
Our library
Our collection
Our research facilities
Arts & Cultural Activities
Why not register for the BMI Newsletter >