Book Sale | Madonna's Children's Stories
$0.00 Price including gst
Would you like to own this collection of Madonna's Children's Stories?
Titles:
The English Roses
Mr Peabody's Apples
The Adventures of Abdi
Yakov and the Seven Thieves
Lotsa de Casha
These books are in immaculate condition and come as a slip-boxed set.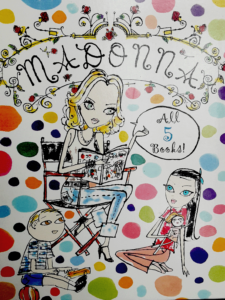 This slipcased set includes all five of Madonna's children's books: The English Roses, Mr. Peabody's Apples, Yakov and the Seven Thieves, The Adventures of Abdi, and Lotsa de Casha.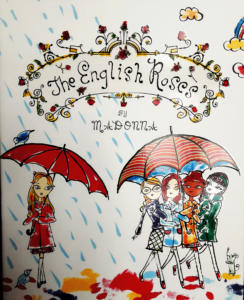 The English Roses is a story of rivalry and friendship among schoolgirls in contemporary London. Four little girls–Nicole, Amy, Charlotte, and Grace–are eleven years old and the very best of friends. They have sleepovers, picnics and ice-skating parties that exclude Binah, a beautiful girl whose seemingly perfect life makes them "green with envy." However, when a feisty, pumpernickel-loving fairy godmother takes them on a magical journey, they learn to their great surprise that Binah's life is not nearly as enviable as it had seemed. The English Roses is an inspiring story about the importance of compassion and the rewards of friendship.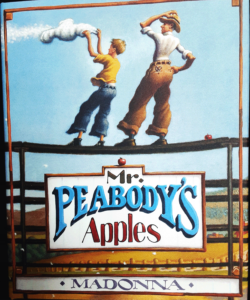 Inspired by a story about the damage than can be caused by spreading rumours about what one sees rather than by seeking truth, credited to Baal Shem Tov – "Master of the Good Name."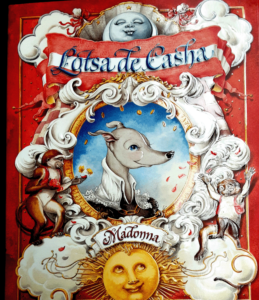 Money can't buy love and being the wealthiest person in the world doesn't guarantee happiness.Lotsa de Casha is the richest — and most miserable — man in the world. No matter how colossal his castles, how fast his horses, nor how big his sandwiches, he remains a gloomy old sourpuss — until he embarks on a fantastic adventure that leads him to the discovery of life's greatest treasure…
What is the secret to happiness? Read Lotsa's story and find out….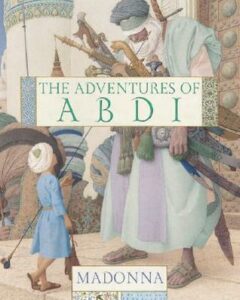 Abdi is a little boy who has been given a very big task. He is to deliver the most precious necklace in the world — made by Eli, his teacher and a master jeweler — to the queen. Along the way he is robbed in the desert, thrown in a dungeon, and has a surprising encounter with a snake. But no matter what obstacles he faces, Abdi never gives up hope, guided by Eli's wisdom that everything that happens in life is for the best.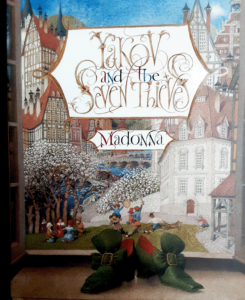 This book was inspired by the Baal Shem Tov, a great teacher who lived in the Ukraine in the 18th century.
It is a story about how all of us have the ability to unlock the gates of heaven–no matter how unworthy we think we are. For when we go against out selfish natures, we make miracles happen, in our lives and in the lives of others.
We must never forget that hidden behind a large amount of darkness is a large amount of light.
Thank you: We would like to thank the generous friend of the BMI who donated these books
Ballarat's Oldest Cultural Institution
The BMI is a not for profit organisation. If you wish to make a donation you can do so by going to our Donations web page >
All funds raised from this event contribute to supporting BMI services such as.
Our library
Our collection
Our research facilities
Arts & Cultural Activities
Why not register for the BMI Newsletter >
I would like to make an offer
We will get back to you as soon as possible if your offer has been accepted.