Earlier this month
Melba Opera Trust
Artist, Tom Nicholson , was announced as the inaugural recipient of the Margaret Baker Genovesi Travel Scholarship. Tom was one of four finalists, taking out the top prize to win $50,000.
Tom has long set his sights on study in Europe and this scholarship (established through
Queensland Conservatorium Griffith University
will support his endeavours. He says "it's such an honour to continue Margaret Genovesi's legacy and have the opportunity to further my training in Germany".
Tom pictured with fellow Melba Artist,
Nina Korbe – Soprano
Those of you who saw Tom perform in last year's Salon Session will know how well deserved this is. Don't miss Tom and Nina next month. 4 July at 2pm, Humffray Room.
BMI members receive generous discounts at these events.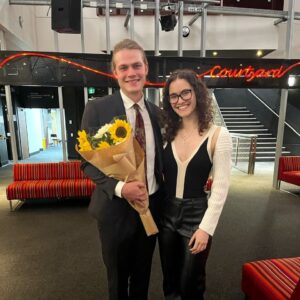 Earlier this month Melba Opera Trust Artist, Tom Nicholson ,...